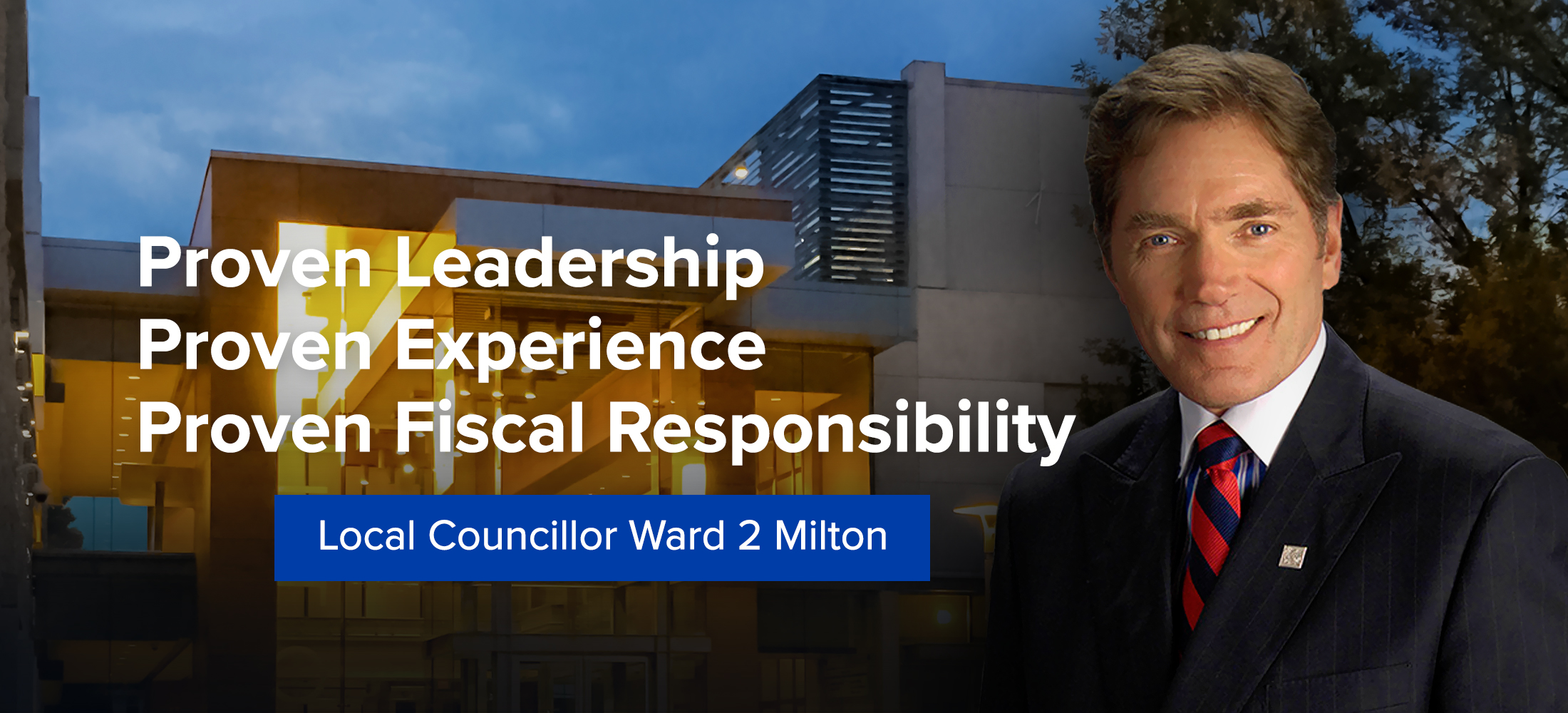 John Challinor II 
Town Councillor, Ward 2
While much has changed at the Town of Milton since I last served you between 1991 and 2006 and much will change, moving forward, what won't change is my commitment to serving you in a high-quality fashion as your Town Councillor.
I helped thousands of Miltonians with their problems during the first 15 years I served on Milton Council and that personal assistance has continued since last Summer, when I announced I was planning to seek election. At this writing, I have helped almost 100 local residents since that time.
As is my personal style, I respond to all emails within hours of receiving same and, once the matter has concluded one way or another, I typically follow-up with an explanatory note written on my letterhead, complemented by my business card and any other relevant documentation pertaining to the matter. I can't and won't promise that I can resolve any and all issues, but I do promise a fair hearing by Town staff or myself…
"It has been a pleasure working with John over the past few years. John is a strong advocate for the residents of Milton and really understands the issues faced by residents and local businesses."
– Parm Gill, Member of Provincial Parliament, Milton, Government of Ontario
---
"John Challinor is one of the most community-minded people I have ever met. He has a genuine desire to serve the public and has demonstrated this through countless hours of community service with various organizations over the years as well as through his many years on Council. John always takes the time to thoroughly understand the many complex issues that the Town faces, listen to his constituents and then tirelessly work for the greater good of Milton."
–  Jim Laidlaw
---
"
John Challinor
has been an advisor, friend and mentor to our family for almost 25 years. In recognition of my father's athletic leadership and philanthropy, John recommended to Halton Board of Education that one of its Milton schools be named for him. That has created the opportunity for our family to mentor many young Miltonians, which is helping to create a more inclusive environment across our growing community. John also assisted in the development of the Tiger Jeet Singh Foundation, our family foundation, which is helping children in a number of Ontario hospitals have a better Christmas. John has a long history of getting things done in our community for all the right reasons. Milton needs John back on Milton Council."    
— Tiger Jeet Singh, Jr. 
---
"John was always the one we called when we needed to address a concern. We have never known a councillor who was so approachable and who followed up with such diligence — even when he represented another ward. He never let us down. He investigated and came back to us and our neighbours with a clear picture of the situation. It was always documented so well. He went to bat for the neighbourhood and succeeded in keeping our woodlot on the Town's radar — and protecting it for future enjoyment of the new trail walkers. His experience, now that the town has grown, is needed more than ever. It has become apparent that a person with John's knowledge is necessary to help move us smoothly forward to be the community we hope to be in the years to come."
– Anne Ptolemy
---
"I would enthusiastically encourage everyone eligible to vote for John. You won't find a more honest guy. Hard working and deeply committed to this town. No agenda beyond serving his constituents. A compassionate fiscal conservative."
– Jim Cassidy
---
I would like to give a shout out to John John B. Challinor II, Town Councillor, Ward 2, for his prompt reply and follow-up to a traffic light matter at James Snow Parkway and Trudeau Drive that we raised. Very impressed with his professionalism . Thank you kindly 
– Anthony Vizzini 
---
Thank-you so much for everything you have done to help me. You took the time to make things happen for me and I will always remain grateful. Thank-you for truly caring about the people of Milton. Wish you continued best!
– Antonella Commodaro
Not sure which Ward you're in? Milton has recently changed to a 4-Ward system!